Can PVC Foam Board Be Produced in Custom Colors?
Share
From

www.boardwaybuilding.com
publisher

Boardway
Issue Time

May 18,2022
Summary
In addition to white, PVC foam board can also be produced in color, common colors are black, gray and brown for furniture use, red, yellow, blue and green for advertising. The color can be customized.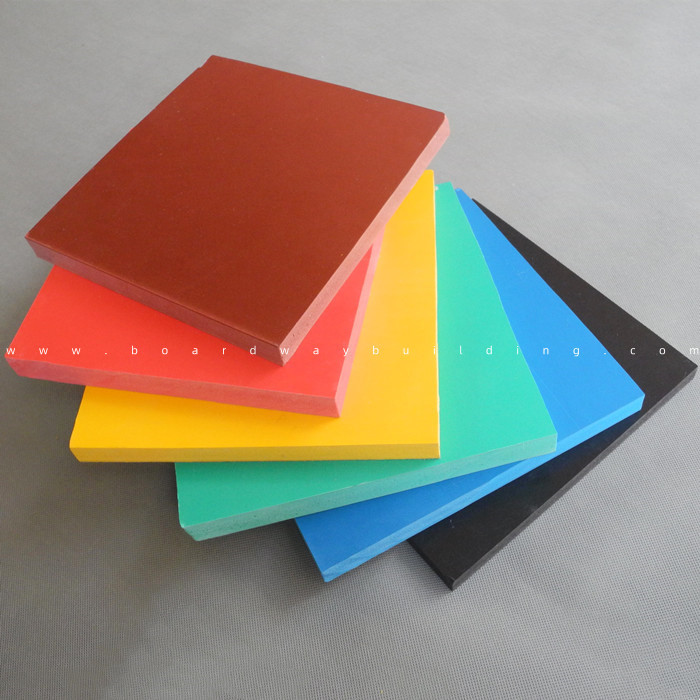 Common PVC Foam Board is White
As a common and widely used plastic sheet,
PVC foam board
(expanded pvc board, closed-cell pvc foam board) has many advantages such as light weight, waterproof, weather resistance, easy processing, non-toxic and non-formaldehyde.
White PVC foam boards tend to have a higher acceptance, so most of the PVC foam boards on the market are mainly white. White PVC foam board is always the first choice for all applications, whether printing, painting, or as a substrate.
However, colored PVC foam board also has its advantages and application fields.



Can PVC Foam Board Be Produced in Color?
In previous blogs and in our videos, we shared
how PVC foam board is produced
. We can know that PVC foam board, as a artificial board, can be produced in color.
By adding color masterbatch to the raw material of polyvinyl chloride and adjusting the ratio of other auxiliary materials required for production, colorful PVC foam board can be produced. (Ten thousand words have been omitted here, the production of color matching is a complicated process. We'll explain that in our later blog. )
The common colors of colored PVC foam board are black, gray and brown. Together with white, we call it the four major colors for furniture use. Using colored PVC foam board
directly
for furniture or interior decoration not only saves the processing of painting, but also ensures that the product does not release formaldehyde.
Colored PVC foam board also has a great demand in the advertising industry. Common colors are red, yellow, blue, green, pink and orange. When the advertising board is based on plain color, then using a colored PVC foam board as the substrate is the best way to save printing costs.






Types of Colored PVC Foam Boards
We all know that there are three types of PVC foam board: free foam PVC, celuka PVC and co-extruded PVC.
All three types of PVC foam boards can be produced in color. The color of the two surfaces and core of the free foam PVC and celuka PVC are almost the same. We can't say they are the same color because the surfaces are usually slightly darker than the core. The co-extruded PVC can be produced not only with the same color of the surfaces and the core, but also can be produced as a two-color board with two different colors of the board surface and the core.
In addition, we also offer a colored PVC foam board that we call it high-gloss PVC sign board, which is specially developed for advertising purposes. It is produced with a single-sided or double-sided very glossy finish. This surface looks like a layer of adhesive prints has been applied to the board, which makes the advertising colors more vivid.






Customize the colored PVC foam board
The color of PVC foam board can be customized.
Our warehouses are stocked with PVC foam boards of various colors. However, if there is no suitable color in stock, we can customize the production for you on the premise that the order quantity meets our minimum quantity.
Customizing colors is easy, you may tell us the Pantone color number, or send us your sample. After the order is confirmed, we will produce a small sample of the colored PVC foam board. We will send you pictures and videos of the samples, or send the samples to you for confirmation. After the color is determined, the mass production of colored PVC foam board starts.
Boardway
is a Chinese manufacturer and supplier of PVC foam board. We have more than 15 years of experience in the manufacture and application of PVC foam board and other plastic sheets. If you would like to know more about PVC foam board, or you have the needs of custom PVC foam board, please feel free to WhatsApp Helen at
+86 13828266785
or email us at
sale@boardwaybuilding.com
.
Check out more blogs on
PVC foam board