Why Do We Choose PVC Foam Board Instead of Plywood?
Share
From

www.boardwaybuilding.com
publisher

Boardway
Issue Time

2022/07/07
Summary
PVC foam board is often compared with plywood. What are the advantages of PVC foam board? Why should we choose PVC foam board instead of plywood or other wood boards? You'll find answers in this blog.
What is PVC Foam Board?

PVC foam board, is a closed-cell expanded rigid plastic PVC sheet, also called foamex PVC.
Due to its uniform foam core structure and hard surfaces, the PVC foam board can have a lighter weight while maintaining a good structural stability. It is popular in the furniture and building materials industry, printing and advertising industry, and interior decoration industry.
Common PVC foam board densities range from 0.5 to 0.7 g/cm3. That is to say, the weight of PVC foam board is only half or less than the weight of ordinary solid plastic PVC sheet. Such a weight is the same as or lighter than wood panels, and can be better handled by workers during processing and use. The regular size of PVC foam board is in the form of rigid PVC sheeting of 4x8 feet.
As far as our factory is concerned, the standard widths of PVC foam board we can produce are 1220mm, 1560mm and 2050mm. A thickness range of 1mm to 30mm and a density range of 0.4 to 1.1 g/cm3 are available.
Like the title of this blog, people keep comparing PVC foam board to plywood
. The reason is that they have similar application areas and they are ideal building materials for furniture and interior decoration. The essential difference between them is that one is made of wood in the natural environment, while the other is a product of petroleum refining.
Let's take a look at the advantages of PVC foam board compared to plywood or MDF or particle board.

Advantages of PVC Foam Board
1. Larger Specification Range

The advantage of artificial board is that we can control its size more easily to meet the needs of use. For example, some interior decoration may use 1500x3000mm sheets. And such large-sized wooden panels are probably not easy to buy. The maximum width of the PVC foam board is 2050mm, and the length can be customized. More size options give PVC foam board more possibilities and more flexibility in practical applications.

The density of PVC foam board is less than half of that of solid PVC sheet, and it is also less than or equal to the density of some wooden panels. This makes the PVC foam board easier to handle, process and install. Despite the reduced weight, PVC foam board still has structural stability and impact resistance.

3. Water Resistance and Mildew Resistance

PVC foam board has a very low water absorption rate, it can be said that it is a non-absorbent material. With this, we can fully apply it in all wet environments, such as kitchen and bathroom cabinets, basement furniture, boat furniture, etc. In addition, there are no nutrients suitable for mold production in the PVC foam board. We don't have to worry about the furniture made of PVC foam board will be moldy. The biggest nemesis of wooden building materials is moisture. Wooden furniture that has been in a humid environment for a long time will soon become a gathering place for mold and greatly reduce its service life.

Polyvinyl chloride (PVC) itself is resistant to acid and alkali, and is resistant to most chemicals. When PVC foam board is used as indoor furniture, the chemicals that can come into contact are probably cleaning agents with various chemical compositions. They are not corrosive to the appearance and material of the PVC foam board and can be used freely.

For termites, wood is their food. Once wooden furniture is targeted by termites, it can be a big project to remove. Also, hiring a professional to remove it can be a huge expense. But if the furniture is made of PVC foam board, then this expense can be saved. We don't have to worry about the PVC foam board being eaten by termites. PVC, a product of petroleum, is unattractive to termites.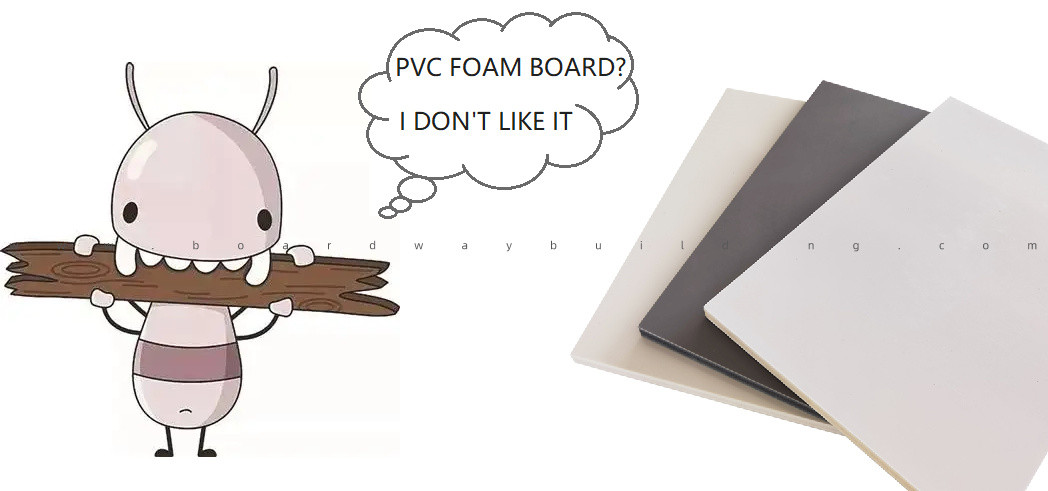 Whether it is plywood, MDF or particle board, when choosing furniture made of them, we must check whether its formaldehyde content is within the standard range. The production process of PVC foam board does not add any materials containing formaldehyde. PVC foam board is RoHS and REACH compliant.
7. Flame Retardant
Common wood materials are known to be flammable. Even though it is fire reinforced plywood, it can only reach the B grade of ASTM E84. However, in terms of flame retardant, PVC foam board has natural advantages. The performance of a common PVC foam board when burning is self-extinguishing from fire. The PVC foam board with flame retardant added in the raw material can meet the A grade of ASTM E84.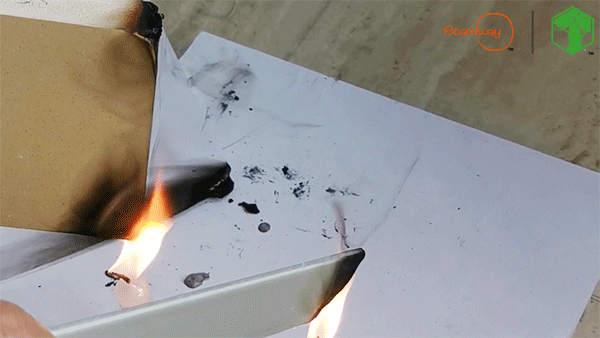 Wood materials are not suitable for outdoor use, and the sun and rain will make them shatter and crack, and eventually rot. The PVC foam board can be used outdoors, and the anti-ultraviolet enhanced version of the PVC foam board can effectively extend the outdoor service life, slow down fading and aging.

Compared with wood materials, PVC foam board is not so "fragile". The advantages of PVC foam board, as mentioned above, allow us to greatly reduce the maintenance of furniture made of PVC foam board.

Using common woodworking tools, we can do various processing on PVC foam board, such as sawing, CNC cutting, drilling, nailing, edge banding, sanding, painting, lamination, hot bending, etc. Click to see more details on
how to process PVC foam board
.
We also shared a blog before about
the disadvantages of PVC foam board
. A more comprehensive understanding of PVC foam board will allow us to better apply it. All friends are welcome to contact us at any time to discuss products.
Boardway
is a Chinese manufacturer and supplier of PVC foam board. We have more than 15 years of experience in the manufacture and application of PVC foam board and other plastic sheets. If you would like to know more about PVC foam board, or you have the needs of custom PVC foam board, please feel free to WhatsApp Helen at +86 13828266785 or email us at sale@boardwaybuilding.com.
Check out more blogs on
PVC foam board