Why Does the White PVC Foam Board Turn Yellow?
Share
From

www.boardwaybuilding.com
publisher

Boardway
Issue Time

2022/08/03
Summary
The white PVC foam sheet may turn yellow after being used for a period of time. The factors that cause its yellowing include the use environment, ultraviolet intensity, and raw material formula.
"Our white PVC cabinets and PVC moulding started to turn yellow after a few years of use, what should I do?"
"Will they continue to get more yellow?"
"Is there any PVC material that won't turn yellow?"
We believe that many friends who are using white PVC foam sheet or other white PVC products may have such questions.
In this blog, we will answer this question from the perspective of a PVC sheet manufacturer, analyze the reasons for the yellowing of PVC foam sheets, how we slow down the yellowing speed of PVC foam sheets, and tips for purchasing PVC cabinets.
Why does the white PVC foam board turn yellow?

The reason for the yellowing of PVC sheets is not just a simple factor. We need to analyze it from several aspects, including the use environment, UV intensity, and raw material formula.
Most of the yellowing of PVC foam sheet is caused by decomposition and aging. UV radiation is the main cause of polymer degradation.
Therefore, we can find that white PVC foam sheets are used in interiors, such as PVC cabinets, PVC decoration, and PVC door panels, and they hardly yellow. However, for the PVC foam sheet used outdoors, the sun and rain will speed up its decomposition and aging speed, and shorten the service life of the product. Different countries and regions in the world have different UV intensity, different sun exposure time, and different climates in a year, which have different effects on outdoor aging of PVC foam sheets.
The two PVC cabinets shown in the picture below are both in use since 2014. At that time we moved to a new office and made several PVC cabinets from our own PVC foam sheet. One is used indoors to store samples, and the other is placed on the balcony wall to store cleaners and supplies. Comparing them, we can know the effect of ultraviolet radiation on PVC foam sheet. And if you just look at the balcony PVC cabinet, its color still looks warm white or off-white.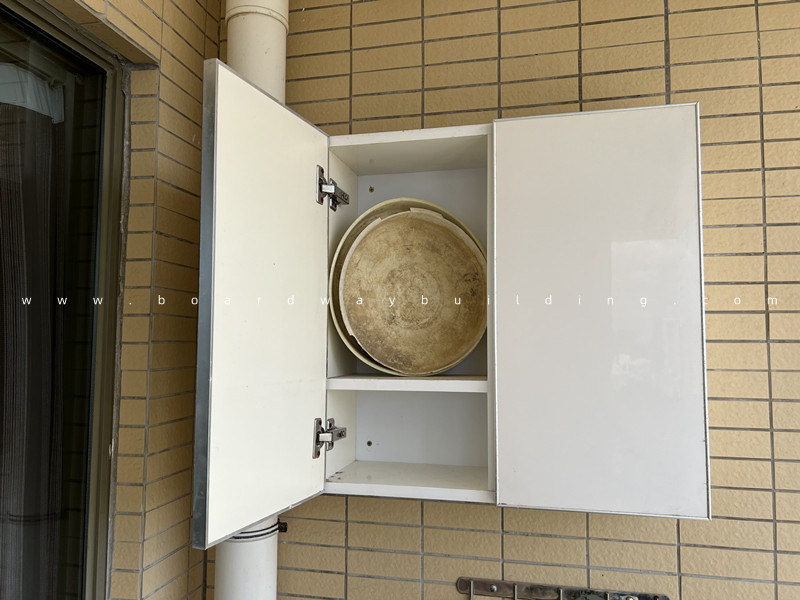 Balcony PVC Cabinet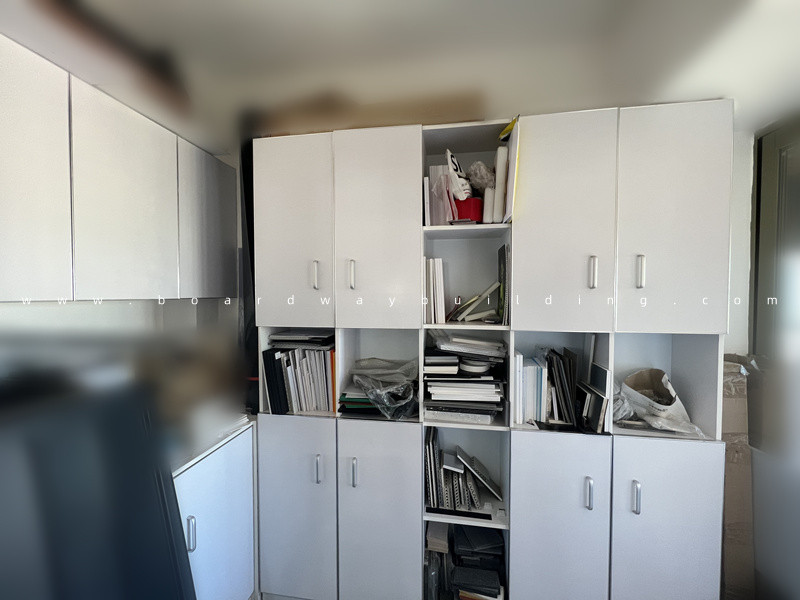 Indoor PVC Cabinet
PVC foamed sheet used indoors without ultraviolet radiation will not have obvious yellowing unless they are produced with poor raw materials.

The aging of PVC foam board used indoors is uniform and slow overall yellowing. Such color changes are slight. As long as it is not compared with a brand new white PVC foam board, it can be said that it is not easy to find the color change. However, if there is uneven discoloration, that is, some areas on the same PVC foam sheet are obviously more yellow, then it can be determined that its quality is relatively poor.
Polyvinyl chloride (PVC) products are naturally yellowed.
PVC is a heat-sensitive plastic. In the production of PVC products, the color masterbatch must be added to the raw material formula, otherwise the PVC products will be pale yellow.
In the blog of the
manufacturing process of PVC foam board
, we share that the raw materials for the production of PVC foam board require stabilizers, foaming agents, foam regulators, lubricants and fillers in addition to polyvinyl chloride resin. To produce white PVC foam board, we also need to add white color masterbatch to cover the yellowish color of PVC.
PVC resin and its products are easily decomposed when heated, and hydrogen chloride gas is released. For this reason, we must add stabilizers to the raw materials of PVC foamed sheets.
Stabilizers are classified into different types according to their different compositions. Some stabilizers can provide a certain degree of UV stability to PVC foam sheets for outdoor use, while others do not. In our case, we use a composite stabilizer, which both maintains the thermal stability of the PVC foam sheet and stabilizes the polymer from degradation.
In addition, our laboratory staff also found that the auxiliaries for the production of PVC foam sheets may contain organic impurities that are easily discolored. They themselves may change color under the action of light, oxygen and water.
Is there a solution to improve this yellowing characteristic of PVC foam board?

Of course there is, we can start by improving its raw material formula.
There are two solutions, one is to solve the problem of yellowing by increasing the proportion of fluorescent whitening agent, and the other is to increase the anti-aging performance by adding ultraviolet absorber. The two options are often complementary. We call it anti-aging enhanced PVC foam sheet. It comes with a higher price than the common version of the PVC foam sheet.
For some indoor applications, common PVC foam sheets are sufficient. If the PVC foam sheet will be used outdoors and last for a long time, then we will recommend the use of anti-aging enhanced PVC foam sheet, which not only ensures a better appearance, but also lasts longer.
I do not accept the discoloration of the PVC foam board at all, what should I do?

If even the anti-aging enhanced PVC foam sheet cannot meet your needs, then the most ideal solution is to choose
laminated PVC foam sheet
.
There are many choices of laminate materials for PVC foam board, which can give the product richer surface patterns and textures. HPL, aluminum sheet or acrylic as laminate, they all have better aging resistance than PVC sheet. For more details about laminated PVC foam board, please feel free to contact us.
Another good solution is to paint the PVC foam board white. The application of painted PVC foam board in advertising and decoration is more common. However, if it is used for home cabinets or other furniture, we must pay attention to the use of paints with qualified formaldehyde emission.
Tips for purchasing PVC cabinets

If you are looking for an all-white PVC cabinet, the ideal choice is to use PVC foam sheet laminated white HPL to make cabinets. Laminated white PVC film is perhaps the most common surface material, but not the best choice due to the possibility of yellowing of PVC film.
If cost control is more important, our suggestion is to consider the use of white PVC foam board for the partitions inside the cabinet and backboards where there is no sun shining through.
If PVC cabinets are to be used outdoors or semi-outdoors, such as modular cabinets with barbecue functions, we strongly recommend that the cabinet boards that can be directly exposed to sunlight use porcelain slab, fiber cement sheet or compact panel with stronger weather resistance, while other parts of the cabinet use anti-aging enhanced PVC foam sheet.
Boardway
is a Chinese manufacturer and supplier of PVC foam board. We have more than 15 years of experience in the manufacture and application of PVC foam board and other plastic sheets. If you would like to know more about PVC foam board, or you have the needs of custom PVC foam board, please feel free to WhatsApp Helen at +86 13828266785 or email us at sale@boardwaybuilding.com.
Boardway Processing Services
1. Cut to size and CNC engraving
2. Silk screen printing, digital printing, painting
3. Thermal processing, bending, embossing
4. Pre-drill, nail, screw and assemble
5. Sanding, PUR lamination, PVC edge banding
6. Corners and edges rounding, chamfering, grooved and tongued