Pros and Cons of Various Laminated PVC Foam Boards
Share
From

www.boardwaybuilding.com
publisher

Boardway
Issue Time

Aug 26,2022
Summary
PVC foam board combines various decorative boards by laminating different surface materials. What are their advantages and disadvantages? In this blog, Boardway will give you some tips for shopping.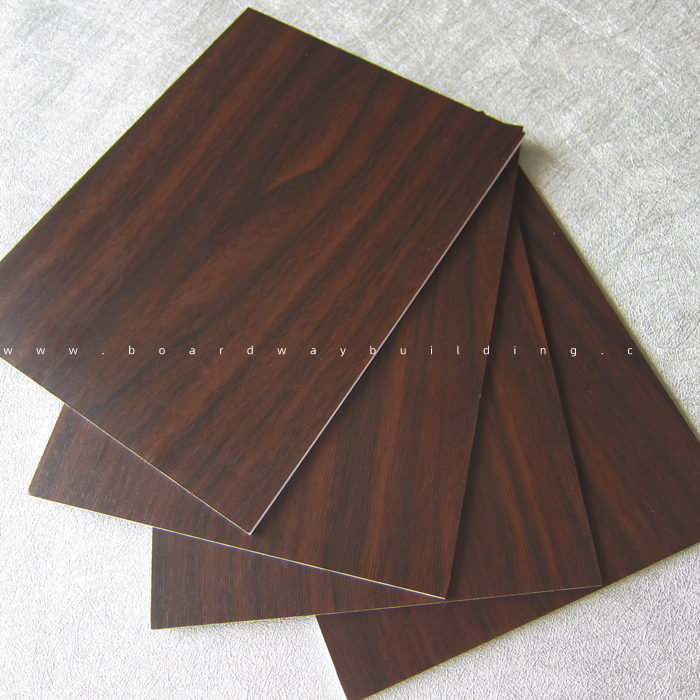 As an ideal substitute for traditional wood panels,
PVC foam board
is more and more widely used and more popular in the market. However, the solid color PVC foam board cannot meet the personalized decoration needs. Laminated PVC foam board came into being.
Laminated PVC board is a decorative board with PVC foam board or WPC foam board as the base material, and a thin surface material is laminated on one or both sides of the base material. It is also called sandwich board or three-layer PVC board.
As a plastic PVC sheet manufacturer in China, Boardway not only produces PVC foam sheet and WPC foam sheet, we also provide custom lamination processing services. The surface materials commonly used for laminating PVC foam boards are PVC film, HPL, aluminum sheet and acrylic. These are also the four most commonly used materials in our factory. So today let's talk about the advantages and disadvantages of these four kinds of laminated PVC boards.
Since the birth of laminated PVC foam board is to meet the needs of personalized design, the first thing we discuss is the aesthetics of different surface materials, including the variety of colors, textures and gloss.
PVC film has always been one of the most common surface materials for traditional wood panels long before PVC foam board was known as furniture board or decorative board. Therefore, we can say that the pattern diversity of PVC film wins at the starting line. The pattern series of PVC film include solid color, wood grain, marble, fabric, rock, geometric pattern, etc.
The HPL with a thickness of 0.7mm to 1.0mm has the advantage of more realistic and finer texture, which brings a more perfect texture to the laminated PVC foam board.
The biggest feature of using acrylic as a surface material is its high gloss, combined with sparkling elements, which is especially suitable for modern interior design styles.

Pattern Diversity | PVC Film > HPL > Acrylic > Aluminum Sheet
Texture Diversity | HPL > PVC Film > Aluminum Sheet > Acrylic
Gloss | Acrylic > HPL = PVC Film = Aluminum Sheet
In addition to aesthetics, different surface materials can also enhance certain practical properties for laminated PVC foam board. The common PVC foam board already has the advantages of light weight, waterproof, self-extinguishing from fire, impact resistance, and high processability. The laminated PVC foam board often brings improvements in performance.
When comparing the appearance above, we did not mention the surface material of aluminum sheet at all. The reason is that it has no advantage in comparing pattern design or texture with the other three. Aluminum sheet has not been applied to laminated PVC foam board as a decorative material for a long time, and there are not many styles. However, the reason why aluminum sheet is accepted by the market is that it has an absolute advantage in performance. Whether it is scratch resistance, flame retardancy, or the stability and durability of the sheet, aluminum sheet is the best as a surface material.
In addition, HPL also has good performance in scratch resistance and flame retardancy, and is fully capable of furniture and decoration applications. Therefore, if you pursue both aesthetics and good performance of the material, HPL laminated PVC foam board will be the most ideal option.
Scratch Resistance | Aluminum Sheet > HPL > Acrylic > PVC Film
Flame Retardancy | Aluminum Sheet > HPL > PVC Film > Acrylic

Stability & Durability | Aluminum Sheet > HPL = Acrylic > PVC Film

For distributors of building materials, as well as furniture manufacturers, in addition to focusing on the advantages and disadvantages of materials, it is also very important to understand the price, MOQ and processability of each material.
The price of PVC film laminated PVC foam board is the most affordable and preferred by most customers. But PVC film for lamination is packaged and sold in rolls, which makes it a relatively high MOQ. Also with a higher MOQ is the aluminum foil that packaged and sold in rolls. HPL and acrylic are in the form of sheeting, as well as aluminum sheets, and their MOQ is generally 100 pieces.
Laminated PVC foam boards are also easy to process. In addition to aluminum sheet lamination to PVC foam board, it is necessary to prepare cutting tools capable of cutting metal.
Price Advantage | PVC Film > HPL > Acrylic > Aluminum Sheet
MOQ | Aluminum Sheet > PVC Film > HPL = Acrylic
Processability | PVC Film = HPL = Acrylic > Aluminum Sheet
Boardway Processing Services

Cut to size and CNC cutting
Pre-drilled, slotted, rounded corners and edges, etc
Grooved and tongued
Provide PVC edge banding close to the decorative surface and edge banding processing
To sum up, if you are looking for laminated PVC foam board for a furniture project or decoration project, then you can choose from your actual application needs and combine the above suggestions. And if you are a distributor of building materials, then you can choose the laminated PVC foam board with high market acceptance according to your customer base and sales channels.
Although various surface materials have different MOQs, please do not hesitate to contact us if you have purchasing needs. We accept mixed specification shipments and will try to accommodate your purchasing needs.
Boardway
is a Chinese manufacturer and supplier of PVC foam board. We have more than 15 years of experience in the manufacture and application of PVC foam board and other plastic sheets. If you would like to know more about PVC foam board, or you have the needs of custom PVC foam board, please feel free to WhatsApp Helen at
+86 13828266785
or email us at
sale@boardwaybuilding.com
.
Check out more blogs on
PVC foam board