What Are the Types of PVC Foam Boards?
Share
From

www.boardwaybuilding.com
publisher

Boardway
Issue Time

Sep 5,2022
Summary
PVC foam board, also called expanded PVC board. It has five types, including PVC free foam board, PVC celuka board, PVC co-extruded board, WPC foam board and laminated PVC board. Click to learn more.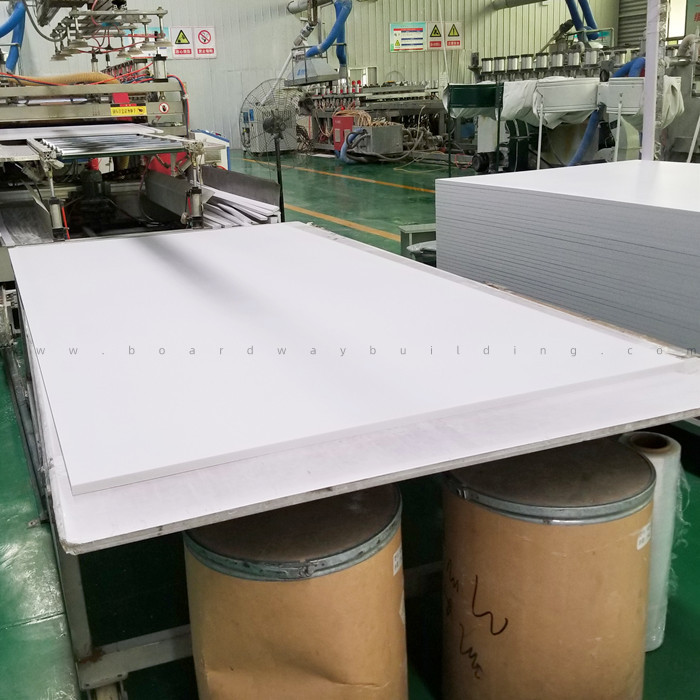 PVC foam board is an expanded PVC board with a closed-cell foam core structure.
The PVC foam sheet has a lighter weight, and the weight is only half of the solid PVC sheet. Although it is a foamed material, it does not absorb water and is a rigid plastic sheet with excellent water resistance. The chemical properties of PVC foam board are shown in corrosion resistance, chemical resistance and self-extinguishing from fire. High-density PVC foam sheet has better impact resistance and durability. In terms of processing ability, PVC foam board can be processed with common tools, which is very convenient. It can also be printed and is a popular advertising material.
Thanks to these good properties of PVC foam board, it has been widely used. At the same time, in order to meet different application needs, different types of PVC foam boards have been developed. In this blog, we will share
What types of PVC foam boards are there?
What are the differences between them?
And, where do they apply?
"Free" doesn't mean "no payment" here. It refers to the production process, after the molten raw material is extruded from the die and formed into a PVC foam sheeting, it is still free to foam and expand in the mold. PVC free foam board has a low gloss matte finish which is good for printing and can be printed on either side.
PVC free foam board is super flexible, lightweight and durable and can be used both indoors and outdoors. It can be used as advertising display boards, supermarket promotion signs, menu boards, yard signs, exhibition booths and so on. We supply PVC free foam board in white and custom colors. Generally speaking, it comes in a regular size of 1220x2440mm, as well as extra-large sizes of 1560x3050mm and 2050x3050mm.
In the process of producing PVC celuka board, the molten raw material is controlled and rapidly cooled down after being extruded from the die to obtain a harder and smoother surface. "CELUKA" represents such a production process.
PVC celuka board is a PVC foam board with a solid skin, which means it has better strength and durability. Also, the denser the board, the heavier the board, and the better the strength. For applications that require a certain amount of strength, PVC celuka board may be an ideal material.
Commonly used PVC foam boards for kitchen cabinets, outdoor barbecue cabinets, decorative wall panels, hollow boards and furniture used in humid environments, most of which are PVC celuka board.
The production process of PVC co-extruded board is different from PVC free foam board and PVC celuka board. In its raw material, non-foaming PVC resin is added. It is a combination of foamed PVC as the core and solid PVC as the surface. The unfoamed solid PVC surface is glossier and harder than the celuka board surface. This allows customers who are worried that the surface of the PVC foam board is not hard enough or scratch-resistant to use it with confidence.
However, the core of PVC celuka board is denser than that of PVC co-extruded board at the same density. Therefore, we recommend the density of PVC co-extruded board to be above 0.55. If the thickness exceeds 16mm, it is recommended that the density be greater than 0.6.
"WPC" is short for "WOOD PVC COMPOSITE", WPC foam board is also called Wood PVC foam board. It has the same production process as PVC foam board, using PVC resin as the main raw material. The difference between them is that a small amount of wood powder or bamboo powder is added to the raw material of WPC foam board. This gives it a more natural wood look, without the problems of wood panels while retaining the outstanding properties of PVC foam boards.
WPC foam board also has two types: WPC celuka board and WPC co-extruded board. There is only one color of WPC foam board, which is the color presented by natural wood powder or bamboo powder. Its regular dimensions are 1220x2440mm and 915x1830mm. We can customize production and we provide cut-to-size service.
Laminated PVC foam board is a PVC foam board with laminated surface material on one or both sides by PUR glue lamination. It solves the problem of limited pattern options of PVC foam board, has stronger decoration and functionality, and can be applied to more practical scenarios.
The surface material options of laminated PVC foam board are PVC film, HPL, aluminum sheet, acrylic, PET, glass, etc. The base material can be PVC foam board or WPC foam board. Taking the most commonly used surface material PVC film as an example, its pattern types include solid color, wood grain, marble, fabric, rock and geometric design. Its surface texture is also diverse, with glossy, matte, frosted, leather grain, wood grain and so on.
If you are unsure how to choose different types of PVC foam board, please do not hesitate to contact us. We are more than happy to recommend the best material for your application and needs.
Boardway
is a Chinese manufacturer and supplier of PVC foam board. We have more than 15 years of experience in the manufacture and application of PVC foam board and other plastic sheets. If you would like to know more about PVC foam board, or you have the needs of custom PVC foam board, please feel free to WhatsApp Helen at +86 13828266785 or email us at sale@boardwaybuilding.com.
Boardway Processing Services
1. Cut to size and CNC engraving
2. Silk screen printing, digital printing, painting
3. Thermal processing, bending, embossing
4. Pre-drill, nail, screw and assemble
5. Sanding, PUR lamination, PVC edge banding
6. Corners and edges rounding, chamfering, grooved and tongued