How Much Do You Know About PVC Foam Board?
Share
From

www.boardwaybuilding.com
publisher

Boardway
Issue Time

Dec 8,2022
Summary
What is PVC foam board? What are the properties and advantages of PVC foam board? What can PVC foam board be used for? If you want to know more about PVC foam board, this blog may give you the answer.
PVC foam board
is an artificial multi-functional plastic board produced by foam extrusion process. Its main material is polyvinyl chloride resin, and other additives are added. It has a hard surface and an expanded closed-cell cellular core. It is also known in the industry by two other names,
Forex PVC
and
Sintra Board
.
Benifits of PVC foam board
The PVC foam board integrates "foam" and "plastic", which makes it have the natural advantages of light weight and waterproof. Lightweight means it can be handled and assembled easily. And waterproof means that it can be applied to more application scenarios.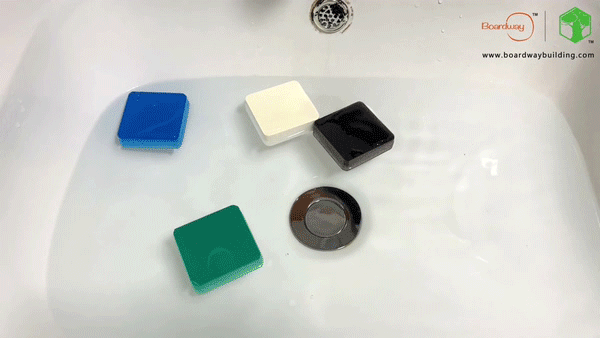 It is precisely because it is a man-made board, PVC foam board has a variety of types and specifications. A wider size range and a variety of product types allow it to meet more application needs and be suitable for various purposes.
| | |
| --- | --- |
| TYPE | PVC free foam board, PVC celuka board, PVC co-extrusion board, WPC foam board, laminated PVC board |
| SURFACE | Smooth, glossy, matte, wood grain textured, embossed |
| COLOR | White, black, gray, brown, red, yellow, green, blue, orange, pink, can be customized |
| WIDTH | Standard widths are 1220mm, 1560mm, 2050mm |
| LENGTH | No limit for the length, can be customized |
| THICKNESS | 1mm - 30mm |
| DENSITY | 0.4 - 1.1 g/cm3 |
PVC foam board has good resistance, it is mildew resistant, acid and alkali resistant, corrosion resistant and termite resistant. These substances are often the number one contributor to accelerated aging and shortened service life. However, PVC foam boards are not afraid of them.

The combustion performance of PVC foam board is self-extinguishing from the fire, which is a better flame retardant performance than wood panels. And for applications with higher flame retardant requirements, we can also produce optimized versions of PVC foam sheets that can meet ASTM E84 Class A.

PVC foam board has strong processing ability and can be easily sawed, CNC cut, printed, painted, drilled, nailed, screwed, slotted, grooved, sanded, laminated, edge banded. What's more, it does not need to be equipped with special processing machines or tools for processing.



Sign & Display
PVC foam board is easy to print and is an ideal printing substrate. Especially PVC free foam board has a matte surface, which is more friendly to printing ink adsorption. It is waterproof, weather-resistant and durable, suitable for medium and long-term printed advertising boards, and can also be used as outdoor signage boards. Moreover, the high-density PVC foam board has stronger impact resistance, makes it perfect for display boards, display racks, and exhibition booths.
PVC foam board is highly adaptable, and is an ideal building material to replace wooden boards. It is easy to process and handle, odorless and formaldehyde-free, making it a perfect choice whether it is used for interior decoration (wall panels, openwork, partition panels), furniture or doors. Especially the furniture (cabinets, vanities) in humid spaces such as kitchens, bathrooms, and basements make full use of the advantages of PVC foam boards. UV-resistant reinforced PVC foam board is also used for outdoor, marine building materials.

Plywood formwork is perhaps the material of choice for most builders. However, it may not be the best choice if you want a more durable formwork that can be reused more times. We highly recommend PVC concrete formwork. It is a waterproof material, not just surface waterproof like plywood. It is corrosion-resistant and weather-resistant, and can increase the number of uses to at least 20 times. More uses means that the cost of building materials can be reduced. This is definitely a cost-effective option.

Boardway
is a Chinese manufacturer and supplier of PVC foam board. We have more than 15 years of experience in the manufacture and application of PVC foam board and other plastic sheets. If you would like to know more about PVC foam board, or you have the needs of custom PVC foam board, please feel free to WhatsApp Helen at +86 13828266785 or email us at sale@boardwaybuilding.com.
Boardway Processing Services
1. Cut to size and CNC engraving
2. Silk screen printing, digital printing, painting
3. Thermal processing, bending, embossing
4. Pre-drill, nail, screw and assemble
5. Sanding, PUR lamination, PVC edge banding
6. Corners and edges rounding, chamfering, grooved and tongued