Is PVC Foam Board Easy to Cut?
Share
From

www.boardwaybuilding.com
publisher

Boardway
Issue Time

May 24,2023
Summary
Whether a simple rectangle or a complex custom shape is required, PVC foam boards can be easily cut. It is also easy to drill, groove, glue and fasten with the right cutting tools and techniques.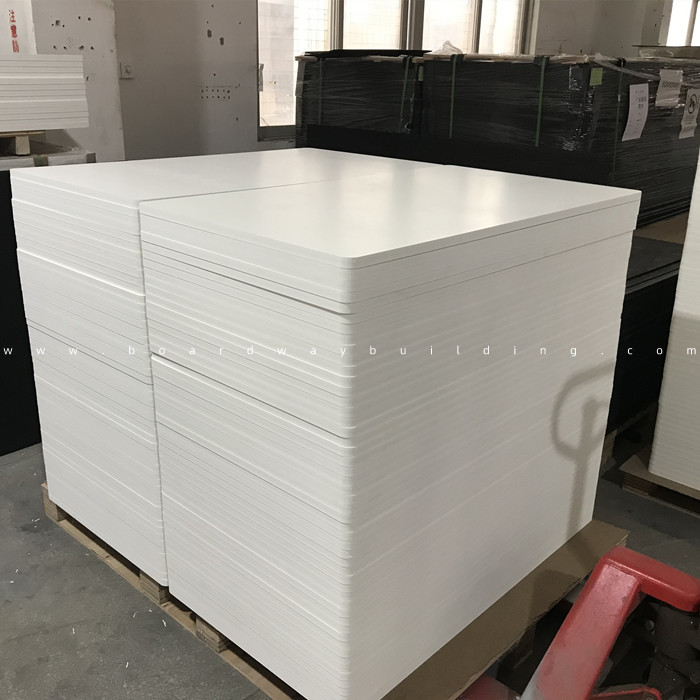 Yes, PVC foam board is a relatively easy material to cut.
Whether you need a simple rectangle or a complex custom shape, PVC foam sheets can be easily cut. Additionally, PVC foam boards are easy to drill, glue and fasten, making them a versatile material for a variety of applications.
PVC foam board is not a hard or dense material, so it can be cut quickly and with less effort than some other materials. Second, its smooth and flat surface makes it easier to cut cleanly and precisely. The surface of the PVC foam board does not have any bumps or irregularities that could cause the blade to jam or jump, resulting in rough or uneven cuts. What's more, it's easy to cut with just common tools, including a utility knife, saw, and router.
According to different PVC foam boards and different cutting requirements, we give the following cutting suggestions for your reference.

1. When the PVC foam board is thin and soft, say less than 5mm in thickness and less than 0.5 g/cm3 in density, and you will make some simple shapes by yourself, maybe you can try to use a utility knife to cut it.
2. When the PVC foam board is thick and it is difficult to cut with a utility knife, then a sawing machine is needed. It can cut the board to size, the process is easy and simple, but the size tolerance may be a little larger.
3. The same is to cut the board into size, but when the quantity is relatively large and the size tolerance range is small, the CNC sawing machine is an ideal cutting tool. It can complete the cutting of thicker sheets at the same time, such as cutting 10 or 15 sheets of PVC foam sheets at one time. And with the help of CNC, the size can be controlled more precisely.
4. And if we want to get a more accurate cutting size, or cut a shape or pre-drilled holes, or make some embossed patterns, CNC router can easily do it.
Overall, PVC foam board is a relatively easy material to cut, thanks to its soft and lightweight nature, smooth surface, and versatility. With the right tools and techniques, you can quickly and easily create a wide range of shapes and designs.
Boardway
is a Chinese manufacturer and supplier of PVC foam board. We have more than 15 years of experience in the manufacture and application of PVC foam board and other plastic sheets. If you would like to know more about PVC foam board, or you have the needs of custom PVC foam board, please feel free to WhatsApp Helen at +86 13828266785 or email us at sale@boardwaybuilding.com.
Boardway Processing Services
1. Cut to size and CNC engraving
2. Silk screen printing, digital printing, painting
3. Thermal processing, bending, embossing
4. Pre-drill, nail, screw and assemble
5. Sanding, PUR lamination, PVC edge banding
6. Corners and edges rounding, chamfering, grooved and tongued
Click
here
to visit our factory.