What Sizes Does PVC Foam Board Come In?
Share
From

www.boardwaybuilding.com
publisher

Boardway
Issue Time

2023/08/08
Summary
Click on the article to dscover the various sizes and dimensions of PVC foam board, including common standard sizes and the advantages of customizing sizes for versatile applications. Boardway - leading manufacturer in China, offer a wide selection of sizes to cater to diverse project needs.
As a leading manufacturer and supplier of
PVC foam board
, Boardway takes pride in sharing valuable product knowledge with our customers. In this article, we will provide a brief overview of PVC foam board and delve into its common sizes. We will analyze the applications of different PVC foam board sizes and emphasize the advantages of customizing sizes to suit various projects and applications. At Boardway, we are committed to delivering high-quality PVC foam boards that cater to the specific needs of our clients, offering a seamless customization process for optimal results. Let's explore the world of PVC foam board sizes and the endless possibilities they offer.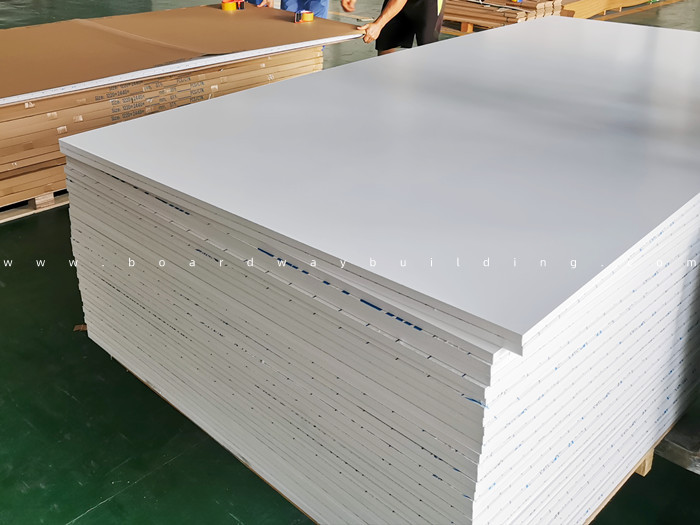 PVC foam board, also known as PVC foam sheet or expanded PVC, is a lightweight and multifunctional material. It is composed of a foam core sandwiched between rigid, smooth surfaces, resulting in excellent strength and durability. PVC foam board is known for its exceptional resistance to moisture, chemicals, and weather, making it suitable for both indoor and outdoor applications.
Common PVC Foam Board Sizes

PVC foam board comes in a variety of common sizes, including:

| | | |
| --- | --- | --- |
| 4' x 8' (1220mm x 2440mm) | 4' x 6' (1220mm x 1830mm) | 3' x 6' (915mm x 1830mm) |
| 2' x 4' (610mm x 1220mm) | 1' x 2' (305mm x 610mm) | |
Larger PVC Foam Board Sizes

PVC foam board is also available in larger widths, such as:

| | | |
| --- | --- | --- |
| 4' x 10' (1220mm x 3050mm) | 4' x 12' (1220mm x 3660mm) | 5' x 8' (1525mm x 2440mm) |
| 5' x 10' (1525mm x 3050mm) | 5' x 12' (1525mm x 3660mm) | |
Applications of Different PVC Foam Board Sizes

4' x 8' and 4' x 6' Boards: These larger sizes are ideal for applications such as outdoor signage, trade show displays, and exhibition booths. They provide a seamless and professional appearance, attracting attention and conveying information effectively.
3' x 6' and 2' x 4' Boards: These medium-sized boards are commonly used for interior cladding, decorative elements, and point-of-sale displays in retail environments. They offer versatility and are easily manageable for installation.
1' x 2' Boards: Smaller sizes are perfect for craft projects, model-making, and DIY home improvements. They allow for intricate designs and detailed work, making them popular among hobbyists and artists.
4' x 10' and 5' x 10' Boards: These larger widths are excellent for creating seamless outdoor signage, advertising panels, and exhibition displays. The extended dimensions eliminate the need for joints or seams, providing a professional and eye-catching appearance.
2050mm x 3050mm Boards: These sizes are perfect for large-scale outdoor signage, billboards, and building cladding. Their broad dimensions allow for prominent displays and impactful visual communication.
Boardway's customization process is designed to be seamless and efficient, ensuring a smooth experience for our clients.
It begins with a detailed consultation, where our expert team listens to your project requirements, budget constraints, and design ideas. Based on this information, we propose the most suitable PVC foam board size and specifications. Once the specifications are agreed upon, our manufacturing team springs into action, utilizing state-of-the-art equipment and cutting-edge technology to produce your custom-sized PVC foam boards with precision and consistency.
Whether you need unique dimensions for specialized installations or to minimize material wastage, our team ensures precise manufacturing to deliver optimal results.

Advantages of Customization

Project-Specific Solutions:
Custom sizes allow you to optimize material usage, reducing costs and minimizing waste while ensuring the best fit for your project.
Tailored Applications:
Whether it's a unique signage design or a specialized interior application, customized PVC foam boards cater precisely to your needs.
Enhanced Branding:
Personalized sizes enable you to create branded displays and elements that align with your marketing strategies.
Superior Quality:
Boardway ensures strict quality control throughout the customization process, guaranteeing premium products that meet your expectations.
PVC foam board comes in a range of common sizes, each with its own set of applications and benefits. Whether you require standard dimensions for large outdoor signage or specific custom sizes for unique projects, PVC foam board delivers exceptional performance, versatility, and durability. As a leading PVC foam board manufacturer and supplier in China, Boardway is committed to offering high-quality standard and custom-sized products tailored to your needs. Embrace the possibilities of PVC foam board sizes and leverage our expertise to elevate your projects and applications. Let Boardway be your trusted partner in providing top-notch PVC foam boards for your diverse ventures.
Boardway
is a Chinese manufacturer and supplier of PVC foam board. We have more than 15 years of experience in the manufacture and application of PVC foam board and other plastic sheets. If you would like to know more about PVC foam board, or you have the needs of custom PVC foam board, please feel free to WhatsApp Helen at +86 13828266785 or email us at sale@boardwaybuilding.com.
Boardway Processing Services
1. Cut to size and CNC engraving
2. Silk screen printing, digital printing, painting
3. Thermal processing, bending, embossing
4. Pre-drill, nail, screw and assemble
5. Sanding, PUR lamination, PVC edge banding
6. Corners and edges rounding, chamfering, grooved and tongued
Click
here
to visit our factory.