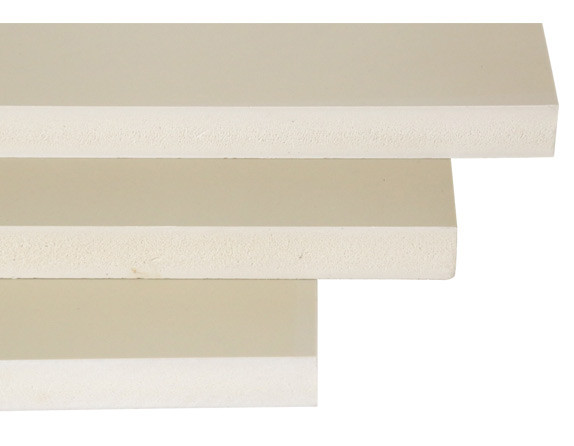 PVC Formwork Panel are available with various names like 'Construction boards', 'Crust foam boards', 'PVC shuttering boards', PVC Plates,PVC sheets, PVC panels, PVC formwork panels etc. in global markets. PVC formwork sheet is made by PVC resin and at a certain ratio, added with special additives and extruded at high temperature, with a special application, can be applied to the field of plywood processing. So far, it is the best environmental protection material to replace plywood formwork.
Features:
Anti-UV
Recycle.
Flexible;
Water-proof
Easily cleaned.
Low Flammability.
Excellent Formability.
Perfect Machinability;
Lightweight, easily reassembled
What makes PVC Formwork Panel so popular nowadays? Why is it better than plywood?
Comparison
PVC Formwork Panel
Plywood Formwork Sheet
 
Recycled
≥20
≤8
Construction
technology
can be sawed, nailed, drill, can be processed as plywood
has been popularized
Demould
Not need mould release agent, Convenient demoulding
Need mould release agent, also need to clear the surface
Connection
Tight assembling, Structured, surface smooth,which can meet the standard of as-cast-finish concrete
Easy to have warping deformation after 4 times recycle, bad thickness tolerence,which makes the deviation of building structure, Easy degumming , bubble, Crack;Difficult to handle when reassembled
Weather resistance
From minus 10 to up to 70, no shrinkage no deformation, Non expansive cracking
All kinds of weather
Water resistance
Water-proof
Not Water-proof, Easy to have warping deformation
Fire resistance
Self extinguishing
inflammable
Plasticity
Good plasticity, can be used for various type of construction part, such as cylinder, arc
No plasticity
Customization
Can customize according to project, which improves the efficiency
Not customizable, have to do fabrication on site, waste time and labor
Cutting ability
very good cutting ability, the edge is smooth after cutting
Bad cutting ability, have to use special saw
Environmental effect
Recyclable
Non-Recyclable