Can WPC Foam Board Be CNC and Painted?
Share
From

www.boardwaybuilding.com
publisher

Boardway
Issue Time

Dec 14,2022
Summary
We know that WPC foam board is a perfect combination of plastic and wood materials. But can it really be an alternative to wood building boards? Is it easy to process? Can it be CNC and painted?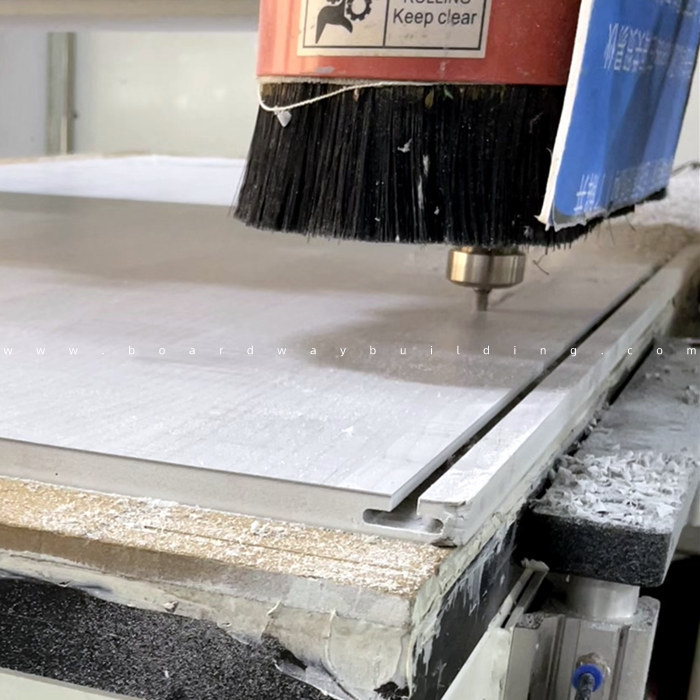 WPC foam board
(wood-plastic composite foam board) is popular in the market because it is an ideal substitute for traditional wood boards. It is a man-made multifunctional building panel with the appearance of a natural wood panel. The main material of WPC foam board is polyvinyl chloride resin and wood powder or bamboo powder, and it is produced by extrusion foaming manufacturing process. The standard size of the WPC board is 4x8 feet, and the length can also be customized.
The natural wood flour in its raw material gives it the wood color and makes it look like wood panels. The plastic material (polyvinyl chloride) enhances the performance of the WPC sheet itself, such as water resistance, corrosion resistance, termite resistance, and flame retardancy.
For users who have not used WPC foam sheet, in addition to its practicability, they may also pay attention to its processability. For example, is it easy to process? Can it be CNC and painted?
WPC foam board can be CNC.

WPC foam board is a rigid board with a smooth surface and a solid core with closed cells. It can be CNC processed in a variety of ways, whether it is simple size cutting, shape cutting, or chamfering, slotting, planing, and tongue-and-groove jointing, all of which can be easily processed.
WPC foam board can be painted.

If WPC foam board is used to make furniture or decoration, sign and display, one of the indispensable processing is painting. WPC foam board has a smooth surface, we strongly recommend sanding the surface of the board before painting. In this way, the paint can better adhere to the surface of the WPC board. However, it should be noted that not all paints are suitable, and special paints for PVC boards need to be used.

The reason why WPC foam board can be an ideal substitute for wooden boards is that in addition to CNC and painting, it can also be easily sawed, nailed, screwed, bolts inserted, bent and laminated.
If you want to try WPC foam board or are still hesitant, please feel free to contact us for free samples.
Boardway
is a Chinese manufacturer and supplier of PVC foam board. We have more than 15 years of experience in the manufacture and application of PVC foam board and other plastic sheets. If you would like to know more about PVC foam board, or you have the needs of custom PVC foam board, please feel free to WhatsApp Helen at +86 13828266785 or email us at sale@boardwaybuilding.com.
Boardway Processing Services
1. Cut to size and CNC engraving
2. Silk screen printing, digital printing, painting
3. Thermal processing, bending, embossing
4. Pre-drill, nail, screw and assemble
5. Sanding, PUR lamination, PVC edge banding
6. Corners and edges rounding, chamfering, grooved and tongued